Contact Us If You Are Interested In BarkEm's!!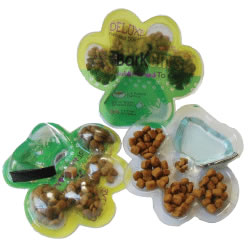 Are you on the move with you pet like the rest of us?
People love animals and are always on the move. Animals are also being accepted more and more in public yet there is not an easy way to feed and water on the go. Why travel with a water & food bowl, a bag of your favorite pet food, another for treats, a couple bottles of water, and towels to clean up? Does this sound familiar to you?
Ready to Go Meal for Your Pet
BarkEm's to Go: a pre-packaged meal suited just for your pet. Contained in separate compartments inside a recyclable package, single use container is: one serving of premium food, portioned to different sizes and species of pets, a bowl of vitamin enhanced pet water, and treat sealed separately for dessert.
Portable pet meals for your pet!!
BarkEm's to Go is ideally marketed towards the traveling pet owner, who would like an easy way to feed their dog on the go.

Listed Below are Some Examples of When to Use BarkEm's

| | |
| --- | --- |
| Day Hiking Trips | Afternoon Walks |
| Short Commutes | Weekend Hunting Trips |
| Week Long Vacations | Trips Abroad |
| Daily Meals | Much More!! |
How to Use BarkEm's

BarkEm's is a very easy to use product. You simply place the product on the ground where your dog will be eating, pull off the plastic seal, let your dog eat, and recycle the package when the dog is finished. It's that simple!!

TRY BARKEM'S TODAY!!!
15 East Plains Ln • Phillipsburg, KS 67661 • Phone: (785) 543-5548 • Fax: (785) 543-5968
© 2006 M-J Odor-Z-Way®, LLC.