Guaranteed Products That Work!!!
We are expanding our product line to offer our customers quality unique products that work. We have personally tested each one of these products so we know you will not be disappointed. We are looking for representatives, distributors, and retailers to take on these products. Please call us an inquire about any of the product below. To learn more about each product, click on the icon to see a full discription about each product. I guarantee you will be amazed by what each product can offer. Keep watch for new products coming soon!
Pet Odor-Z-Way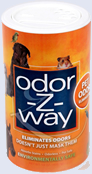 Remove virtually any Pet odor or stain with Odor-Z-Way®. Our odor and stain removal product is guaranteed to remove the odors and stains that your pet may cause. Odor-Z-Way® is a premier product on the market used for odor and stain removal. Click here to learn more!